About BioCold Environmental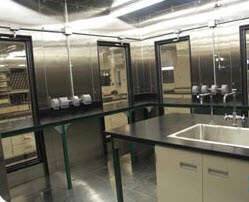 Founded in 1973, BioCold has been manufacturing and installing controlled temperature and humidity chambers for more than 40 years. We began serving primarily local clients throughout the midwest United States, and were one of the first to begin using continuous proportional hot gas bypass refrigeration systems to ensure tight temperature control.
Today, we remain among the industry leaders in developing and testing new technology, now serving clients throughout the United States and internationally.
Our in-house design team includes electrical and mechanical engineers with expertise to assist in providing a tailored solution to meet every client need.

Project Design Consultation
We offer a wide range of design-build capabilities, depending on the needs of each particular project. These services break down in a number of common approaches:
Architectural Consulting Services
We provide consulting services to a number of architects seeking input on controlled temperature and humidity chamber design. These services range from a brief specification review, to chamber load calculations and preliminary equipment selection, to a broad-based support including specification drafting, drawing/detail preparation, equipment selection, and engineering design calculations.


Owner Project Review
Frequently we are contacted directly by an owner seeking assistance in putting together a bid package for stability chamber requirements. Much like our work with architects, these services may range from a simple read and react to project documents already prepared by others, to a full-fledged interview and design project to put together a proposal custom designed to the client's needs.


Performance Specification
Many of our projects are built around a performance specification, in which the owner/architect has specified certain basic requirements (usually temperature/humidity ranges and overall square footage or dimensions), allowing us the opportunity to design the project to the owner's requirements, while making recommendations for equipment selection, load requirements, and material finishes.

Design Capabilities
In-house Engineering Resources
BioCold has one in-house mechanical engineer, one in-house electrical engineer, and we outsource structural engineering requirements as needed, due to the frequent requirement for sealed drawings from a structural engineer licensed the state in which the project is to be installed. Our insulated panel manufacturers provide the pre-engineered structures used for our chambers.


In-house Controls Resources
BioCold has one in-house controls technician and one in-house industrial controls engineer whose primary responsibility is the programming and design of the control equipment (in coordination with our electrical engineer).


In-house Commissioning and Qualification Resources
We provide both in-house and third-party commissioning and validation services. In-house, we have three trained technicians and three sets of validation equipment (GE RF Valprobe, and Rotronic Hygroclip 2).


Our Partners
BioCold partners with internationally recognized industry leaders to provide our clients with the most reliable and dependable products available. These partners include:
ABB
As one of the world's leading engineering companies, ABB helps its customers to use electrical power effectively and to increase industrial productivity in a sustainable way.

Bally Refrigerated Boxes
Bally is a leading manufacturer of walk-in coolers, freezers, and refrigerated warehouses with over 75 years of experience in the industry.

Fuji Electric
Fuji is a Japanese electrical equipment company, manufacturing pressure transmitters, flowmeters, gas analyzers, controllers, inverters, pumps, generators, ICs, motors, and power equipment.

Heatcraft Refrigeration Products
Heatcraft Worldwide Refrigeration is a global leader in commercial refrigeration providing innovative refrigeration solutions that enhance the way we live.

IDEC
IDEC seeks to improve the global economy by providing high-quality, safe, reliable and innovative products to meet future and present needs.

KeepRite Refrigeration
KeepRite is a worldwide manufacturer and distributor of commercial refrigeration products used in specialized applications including food storage, processing and industrial process cooling.

Munters/CargoCaire
Munters manufactures desiccant dehumidification systems for reliable humidity control in hundreds of commercial and industrial applications.

Rockwell Automation/Allen Bradley
Allen-Bradley products from Rockwell Automation include integrated control and information platforms, intelligent motor control and industrial components.

Rotronic
Rotronic offers a comprehensive line of measurement instruments including humidity probes, indicators and meters, data loggers and humidity transmitters.

Vaisala
A leading manufacturer of electronic measurement systems and equipment for meteorology and the environmental sciences, traffic safety, and industrial applications.