Insect Growth Chambers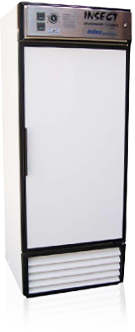 BioCold insect chambers are designed specifically for rearing flies and other insects, offering exceptional temperature, humidity and lighting control for active experimentation or housing stocks.
Microprocessor Temperature Control
BioCold insect chambers are equipped with microprocessor-based temperature controllers, each offering dual digital displays (actual value and set value), straightline PID control, audible high/low alarms, and remote alarm connections.
Environmental Conditioning System
BioCold insect chambers employ thermoelectric cooling, ultrasonic humidification, and a high capacity circulation system to ensure uniform air distribution and exceptional uniformity from top to bottom throughout the chamber.
Temperature control to within ±0.2°C
Humidity control to within ±0.5% RH
Temperature uniformity to within ±0.7°C
Humidity uniformity to within ±3% RH
Temperature Control System
BioCold insect chambers use a high capacity solid state (thermoelectric) cooling system to achieve temperatures down to 18°C, cycling low watt density heaters to control temperature. Thermoelectric cooling offers exceptional reliability, completely eliminating refrigeration leaks and compressor failures, with a mean life expectancy of more than 20 years per unit.
Humidity Control System
Ultrasonic humidification provides increased energy efficiency and precision in humidity control compared to traditional steam boilers. Humidity control is available on all chambers, with dial humidistat or digital control options to achieve humidity control of up to ±0.5% RH.
Cabinet Design
Double-wall cabinet construction with foamed-in-place high density urethane insulation (CFC free) provides years of trouble-free operation. Chambers come standard with a stainless steel door, brushed anodized aluminum exterior, NSF-approved white aluminum interior, and stainless steel floor. Chambers are also available in optional stainless steel interior and exterior finishes.
Incubator Features
Chamber Performance
Temperature Range: 18°C to 32°C
Temperature Control: ±0.2°C
Temperature Sensor: Type T Thermocouple
Cooling System: Solid State
Humidity System: Ultrasonic (optional)
Lighting: Programmable LED(optional)
Controls
Microprocessor PID controls
Audible/visible alarms
Remote alarm contacts
Cabinet Construction
High density urethane insulation
Double-pane thermal glass door
Non-chip vinyl laminated steel exterior
White NSF-approved aluminum interior
300 series stainless steel floor
Low wall plenum
4" casters
Shelving
Chambers are equipped with heavy-duty vinyl-coated wire shelving able to support up to 200 lbs. of distributed load per shelf. Chambers come standard with four shelves per door section, with additional shelving available up to a maximum of eight shelves per door section.
Chamber Options
Access ports (up to 4" dia.)
Additional shelving
Circular chart recorder
Data communications (RS-485 or 4-20mA)
Digital data logging system
Email/SMS text alarm notification system
Extended temperature ranges
Interior GFCI receptacles
International voltages
Light-tight door cover
Microprocessor RH control (±0.5%)
Mite decontamination cycle
Programmable light cycles
Programmable ramp/soak cycle
RO/DI water filtration system
Sliding doors
Water carboy with tubing
* BioCold offers a wide range of options and accessories. Please contact us or call (636) 349-0300 for any features not shown
Downloads