Laboratory Incubators
BioCold's laboratory incubators offer exceptional temperature and humidity control while providing reliable and efficient solutions for a variety of stability testing applications.
Operating from 5 degrees above ambient to 60°C
Ranging in size from 12 to 85 cubic feet
A variety of finishes
Solid or glass door models available
Microprocessor-based temperature controls offer straight-line control at ±0.3°C.
Incubator Features:
User-friendly touchscreen interface
Microprocessor-based PID controls
Hot gas bypass refrigeration
Thermoelectric cooling
Ultrasonic humidification
Rotary bed adsorption dryers (to provide optimal temperature & humidity control)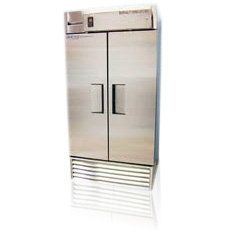 All incubators come standard with a rear wall plenum for positive airflow and uniformity throughout the chamber. Humidity control options are also available.
Looking for Drosophila Incubators?
BioCold recommends its Drosophila Incubator line for drosophila rearing or other corrosive incubator applications.
Glass door models not recommended for high humidity applications.