Design Consultation
We offer a wide range of design-build capabilities, depending on the needs of each particular project. These services break down in a number of common approaches:

Architectural Consulting Services
We provide consulting services to a number of architects seeking input on controlled temperature and humidity chamber design. These services range from a brief specification review, to chamber load calculations and preliminary equipment selection, to a broad-based support including specification drafting, drawing/detail preparation, equipment selection, and engineering design calculations.

Owner Project Review
Frequently we are contacted directly by an owner seeking assistance in putting together a bid package for stability chamber requirements. Much like our work with architects, these services may range from a simple read and react to project documents already prepared by others, to a full-fledged interview and design project to put together a proposal custom designed to the client's needs.

Performance Specification
Many of our projects are built around a performance specification, in which the owner/architect has specified certain basic requirements (usually temperature/humidity ranges and overall square footage or dimensions), allowing us the opportunity to design the project to the owner's requirements, while making recommendations for equipment selection, load requirements, and material finishes.

Design Capabilities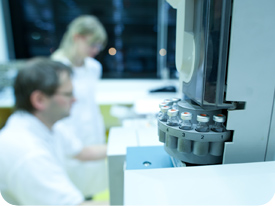 In-house Engineering Resources
Our in-house mechanical and electrical engineers give BioCold the flexibility to design custom projects with confidence that they will meet the specific needs of our customers. Where specific project requirements dictate, we also have various third party engineering firms we work with to provide sealed drawings from a structural engineer licensed in the particular state in which the project is to be installed.

In-house Controls Resources
Every control system is built to specification by BioCold's controls team of technicians and engineers, and every panel undergoes rigorous testing to ensure performance.

In-house Commissioning and Qualification Resources
We provide both in-house and third-party commissioning and validation services, with technicians trained in the execution of qualification protocols, including the use of both GE Kaye and Rotronic instruments.