FDA/ICH Stability Test Chambers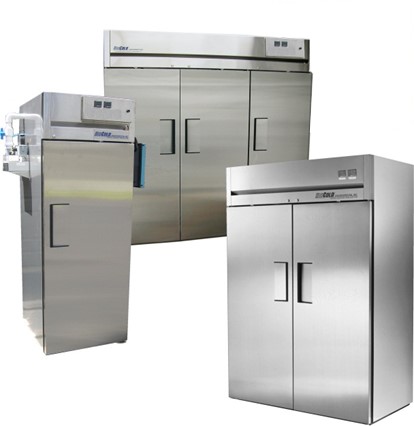 BioCold Stability Chambers are designed to satisfy demanding environmental testing requirements with exceptional temperature and humidity control, while providing reliable and efficient solutions for a variety of stability testing applications.
BioCold Controls
BioCold stability chambers are built around an Allen Bradley programmable logic controller (PLC), providing customers with remote access Ethernet and serial monitoring and control. All control and monitoring functions are accomplished through the BioCold control system, including optional programmable temperature, humidity and lighting routines.
Temperature Control System
BioCold stability chambers use a continuous solid state cooling system with low watt density heaters, eliminating downtime due to refrigerant leaks or compressor failure. Solid state thermoelectric cooling systems offer an average life of 23 years of reliable, efficient operation. By cycling resistive heaters against a constant cooling load, BioCold offers tight temperature control (±0.3°C) over a range from +20°C to +45°C, with extended ranges available.
Humidity Control System
BioCold's ultrasonic humidification system provides efficiency and precision in humidity control. The chamber cooling system provides a constant dehumidification effect, with the humidifier injecting water vapor instantaneously into the chamber at less than 10% the energy usage of traditional steam generators. Desiccant dehumidification systems are also available for low humidity applications.
Cabinet Design
Double-wallcabinet construction with foamed-in-place high density urethane insulation (CFC-free) provides years of trouble-free operation. Chambers come standard with a stainless steel door, brushed anodized aluminum exterior, NSF-approved aluminum interior, and stainless steel floor. Chambers are also available in optional stainless steel interior and exterior finishes.
Shelving
Chambers are equipped with heavy-duty, vinyl-coated wire shelving able to support up to 120 lbs. of distributed load per shelf. Chambers come standard with three shelves per door section, with additional shelving available up to a maximum of six shelves per door section.
Standard Features
Chamber Performance
Temperature Range: 20°C to 45°C
Temperature Control: ±0.3°C
Temperature Sensor: 100 ohm RTD
Humidity Range: 60% to 80% RH
Humidity Control: ±0.5% RH
Controls
Microprocessor PID controls
Audible/visible alarms
Remote alarm contacts
BioLogic™ 7" color touchscreen with Allen Bradley PLC (option)
Cabinet Construction
High density CFC-free insulation
300 series stainless steel door
Brushed anodized aluminum exterior
NSF-approved aluminum interior
300 series stainless steel floor
Side wall plenum
¾" diameter instrument port
5" casters
Chamber Options
Access ports (up to 4" dia.)
Circular chart recorder
CO2 control
Explosion safe interior
Desiccant dehumidification
Extended temperature ranges
Interior GFCI receptacles
International voltages
High intensity lighting
LED lighting
Local temperature and RH displays
Programmable ramp/soak
RO/DI water filtration system
Stainless steel interior/exterior
Stainless steel wire shelving
Water carboy w/ tubing
Water-cooled condensing unit
BioCold offers a wide range of options and accessories. Please contact us or call (636) 349-0300 for any features not shown.
Downloads